When I first learned about Pure Wraps, a thin low-carb* gluten-free wrap made of coconut, I figured it would serve as a good substitute for sandwiches. And I was right. But you can do a lot more fun things with Pure Wraps than just wrap up some deli meat!
8g per wrap. They barely spike my blood sugar. When I tested with a ham and cheddar sandwich I spiked 13 points and came back down to my baseline in 2 hours.
Sopapillas
Sopapillas are a delicious Hispanic dessert that I just love. Think cinnamon twists from Taco Bell but … you know … real. :) I made this by heating a nonstick skillet and melting a bit of butter or coconut oil. Then lightly fry the wrap on each side until it starts to brown. Place on a paper towel and sprinkle with cinnamon and sweetener (I used Truvia). It will quickly crisp up as it dries and become crunchy and crumbly.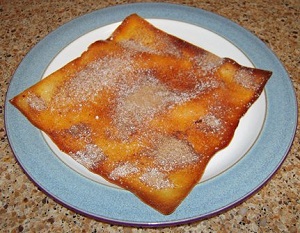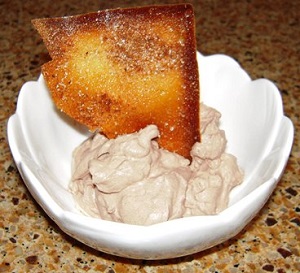 Chocolate Twist
It is killing me that I can't remember the name of the candy I am trying to imitate (chocolate filled layered twist in the shape of a tube) but we persevere! I am calling it a Chocolate Twist and if you know what candy I am talking about, let me know!
Melt some chocolate (store bought, homemade or coconut oil themed) and paint/spread it over a wrap. Roll up and let it set in the refrigerator or freezer for a few minutes. Cut into whatever portions you think best. :)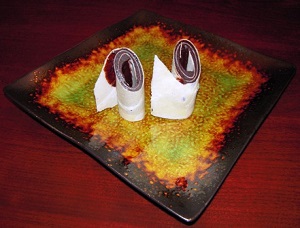 Other Uses
I have used the Pure Wraps in a few other less sexy ways. They have a slightly sweet taste so I don't like them so much with roast beef but they work great with ham.
I have made a grilled ham and cheese sandwich with less than stellar success. I grilled the ham and let the cheese melt on top then placed it on the wrap. Unfortunately the wrap immediately soaked up all the moisture from the ham and become a soggy mess. That's the tough thing about these wraps, they are very thin and don't do well with wet ingredients.
Have you tried Pure Wraps yet? Let me know if you have any novel uses for them!