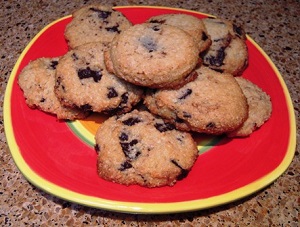 I just made the "Chunky Chocolate Chip Cookies" from Low-Carbing Among Friends vol 2. While I can't post the recipe, I would like to share some of my substitutions.
First off, the recipe calls for sugarless chocolate chips. After looking around online, I didn't really like any of the options as they had sweeteners that I don't use, like malitol. So I decided to make my own, though I could have instead bought a very dark chocolate bar (like Dagoba Eclipse 87% which only has 19g of carbs for the entire bar) and just chopped it up. I may do that next time since making chocolate chips is a bit of a (tastey) pain.
I used this recipe to make my chips, though I substituted 5 scoops (210mg) of pure stevia for the 20 drops of liquid stevia and used butter instead of coconut oil. I also powered my erythritol first in the food processor because the granular erythritol doesn't dissolve well in chocolate. Another change is to cool the chips in the freezer instead of the refrigerator. I gave them 3 hours in the fridge and when I tried to chop them they melted and mushed together. 15 minutes in the freezer and they chopped nicely and stayed separate. Next time I'll skip the fridge and put them directly in the freezer.
For the cookie dough, I used ¼ tsp of pure stevia in place of the 1 cup of Splenda. I also used 2 extra tbsp of butter (no clue how that got in there!) and next time I plan to use 2 entire sticks of butter since I like my cookies to really spread out.
The only other tweak was to bake them longer than the recommended 10 minutes. I peeked at them after 10 minutes and let them go until they were brown around the edges. That ended up taking about 14 minutes for a sheet of 12 cookies.
The verdict? They weren't overpoweringly sweet and I didn't notice any cooling effect from the erythritol or bitterness from the stevia. If you have a sweet tooth, I would go with more sweetener in both the chips and the dough. The texture was perfect, not too chewy or dense, though I was tempted to dip them in whipped cream…