A few weeks ago Tom Naughton from Fat Head posted a recipe for a low-carb gluten-free pizza that is just perfect. I have been making it twice a week ever since and it is real pizza, not some acceptable substitute. Don't be scared off by the amount of cheese used to make the crust, it comes out sturdy and just like a flour based crust.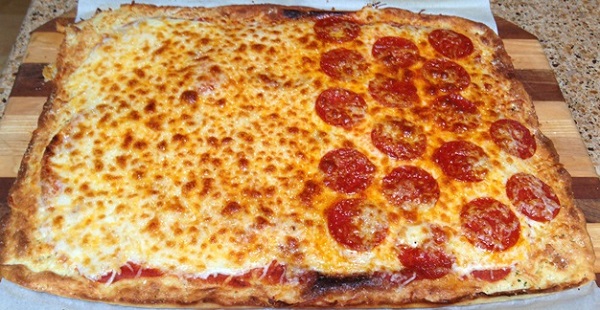 I have made a few changes and included some nutritional information which you may find helpful.
Ingredients
4 cups mozzarella cheese
1/2 cup of your favorite mixed cheese, like a Mexican, Italian or cheddar blend.
4 oz cream cheese
1.5 cups almond flour
1/2 cup of pizza sauce or spiced tomato sauce
Garlic salt
(Optional) Dried ground fennel
(Optional) Dried ground oregano
(Optional) Dried parseley
Steps
Preheat oven to 425 degrees.
Line a baking sheet with parchment paper. My recipe fills an entire 1/2 sheet pan.
In a microwave safe bowl, combine 3 cups (436g) of mozzarella cheese and 4 oz of cream cheese. Microwave and stir every minute until smooth and mixed.
Add some dashes of garlic salt, parsley, oregano and fennel. If you are short on spices, the only one that really matters (in my opinion) is the garlic salt… mmm salt!
Add 2 whole eggs and 1.5 cups of almond flour. Stir like a mad-woman until it is all mixed.
Dump out onto your lined baking sheet.
Now smoosh out the dough to make a crust. I like to put my hand in a sandwich bag and pour a few drops of olive oil onto it so that nothing sticks.
Lightly cover the crust with garlic salt.
Bake for 10 minutes. If you see major bubbles, feel free to attack them with a fork.
Continue baking about 4-6 minutes, until the crust fully cooked and slightly brown on top.
Add the pizza sauce, remaining cheese (1 cup mozzarella and 1/2 cup of cheese blend) and any toppings.
Shake out a wee bit more garlic salt on top… :)
Place back in the oven under the broiler for 2-3 minutes, until the cheese is melted and bubbly brown.
Remove from the oven and let it cool in a safe place (I use my cutting board). After 5 - 10 minutes it is ready to cut without causing a cheese landslide.
Nutritional Information
This makes 16 square slices, and I am quite stuffed with 4 slices, or ¼ of the pizza. So my serving clocks in at 15.2 g of carbohydrate (or 10.4g net). The nutrition info below is calculated using the recipe above, with just cheese for the topping.