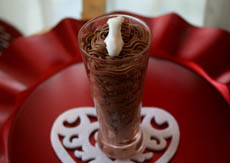 The postman surprised me today with my copy of Low-Carbing Among Friends vol 2.  I opted to pay the extra $2 to have mine coil bound and it was definitely worth it. It lies flat and I don't have to worry now about the binding breaking. I wonder if I can get my vol 1 copy rebound… :)
My plan is to go through the recipes and highlight any that are ketogenic. They have the best low-carb, gluten-free recipes, and the desserts are as good as the "real" versions. Unfortunately low-carb does not always equal high fat, low-protein, especially when almond flour is involved.
So to help everyone else out, and make my initial perusing of the book more productive, I've gone through the entire book calculating the ketogenic ratio for each recipe. Here is a compilation of all the recipes with a ratio greater than 1.5.
One important note about this series is that they do not have pictures in the books. It helps save space and lots of money. However pictures of all the recipes are on their website (pictures for vol 1 and pictures for vol 2).
UPDATE: I love the coil binding so much I just reordered vol 1 coil bound. I plan on giving my non-coil bound version to my sister since she does low-carb too. Everyone wins! :)