This part 3 in a series on ketogenic diets. Check out part 1 and part 2.
As promised here are the results from my first 2 weeks of a ketogenic diet.
Fasting Ketones: 1.3 millimolar! Weight Lost: 6 lbs
On average I eat between 1900 and 2200 calories. Since I'm a 5' 8" tall female and my "maintenance" is theoretically 2,300 I think that's okay. I don't try to eat a certain number of calories and am instead focusing on energy levels, hunger and making sure I don't overdo it on carbs or protein.
It varies from day to day but overall here is the macronutrient breakdown:
Carbs: 20-40 g Protein: 70-100 g Fat: 140-190 g Ketogenic Ratio: 1.8 – 2.2
I eat 3 meals a day with 2 snacks. I decided to take pictures and boy, that's a PITA so enjoy the only pics you'll ever see. :) I don't have a nice camera, good lighting, cooking skills, etc so … they taste better than they look!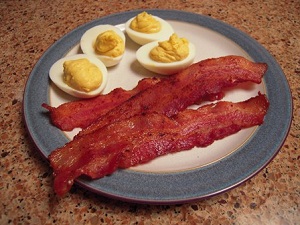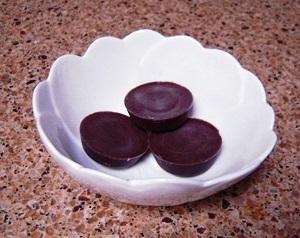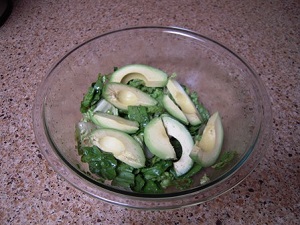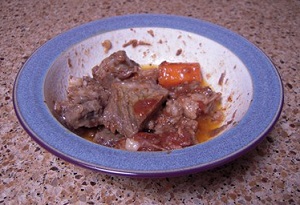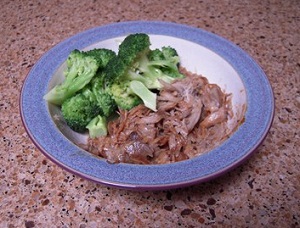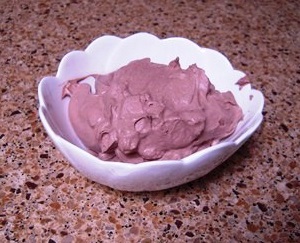 Thoughts
So far I am very happy with the changes in my diet. I love, love, LOVE eating as much fat as my desire dictates. I miss my giant steaks but have found that as I stuck to the lower protein, my overall hunger went down and my post-meal satisfaction went up.
While I think it is preferable to get my fat from my 3 meals, the regular desserts are a fun compromise. I'm eating much more than I have on previous diets and am starting to build a better relationship with my food. I know that sounds corny but when you get to the point where you hate yourself every time you eat, want to eat, see food on the TV, etc … it's a huge relief to lose some of the guilt.
I have been stalled at the same weight for a year, so losing 6 lbs is significant for me. According to my body fat monitor, I've lost .5% body fat, so hopefully it wasn't all water and muscle. I find that if I have a bad day, I can easily gain 2 lbs which is pretty normal for a low-carb diet as you gain water quickly when low-carb. Still frustrating though! I guess I could weigh myself less often but I like the immediate feedback. I have my fingers crossed that I continue to lose fat at a regular pace.
Stay tuned, I'll be following up with more information on ketogenic ratios, calorie deficits and progress reports!